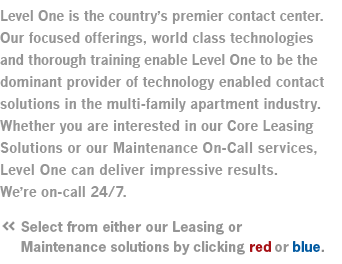 Core Leasing Solutions
We manage your prospect's experience and help you lease more apartments by effectively answering your advertisement generated leasing phone calls and emails. Immediate response, consistent messaging and timely follow-through capture every lead.


Maintenance On-Call
Our associates professionally manage your residents' maintenance requests to help you retain more leases. Maintenance done well drives resident satisfaction.

COMING SOON!
Customer Relationship Management (CRM) Software
Whether it is a guest card we create or you create, our integrated web based software will help your team manage, track and maximize every lead to help you lease more homes.
Messaging
When you are not in the office or available, Level One will take a professional and thorough message on your behalf and forward it to you onsite.
Since its inception in 2003, Level One's success is due to having:

The right offering – proven, high value added solutions to multi-family apartment niche – 24/7 centralized customer interface of the most critical items – lead to lease management & maintenance requests through telephone calls, emails and chats.

Enabling technologies – combination of proprietary software interfaces, world class telephony/computing infrastructure and extensive proprietary data integration capabilities.

A performance based culture – rigorous methodology of employee selection, development, and defined career path resulting in a purpose for exceptional employee attitude and culture.

An information/knowledge hub – extensive mining of data statistics creates valuable information providing new knowledge to customer for better decisions.

Consistent execution – narrow multi-family real estate focus creates vast specialized experience resulting in repeatable practices, refinement of complex systems, significant dedicated investment and a scale that allows for consistent execution.